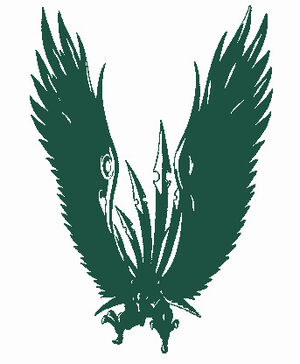 Shadow Skyress was the former guardian bakugan of Tom Uraya (Death).She is a darkus/ventus hybrid
Backstory
Edit
Shadow Skyress was created when Death was captured and brainwashed. Shadow Skyress was cloned from Storm Skyress. Shadow Skyress and Death carried a long grudge against Kyle and Omega Drago. In their first battle one of Shadow Skyress's attempts to win was slicing off Omega Dragos head. In the battle Omega Drago was given a boost of 1000 Gs and defeated Shadow Skyress.Soon she and Death met the Child Naga when he was evil. Child Naga gave them the revived energies of the Silent and Infinity cores.When Death powered up Shadow Skyress they brawled Kyle and Omega Drago and almost won but Omega Drago became Sigma Drago MK2 and defeated them.Death powered up Shadow Skyress with the silent core and she became Naga Skyress. In the midst of their battle Naga Skyress became Silent Skyress and almost out right killed Omega Drago. Omega Drago began to transform into Sigma Drago but because of Kyle he became Omega/Sigma Drago. When Kyle and Omega/Sigma Drago won it destroyed the mind controls effects on Death. He got Naga Skyress (She evolved backwards after getting hit) to trust Kyle and Omega/Sigma Drago and now she is one of Kyles primary bakugan. After Kyle was destroyed by Wrath in battle, Shadow Skyress was destroyed and the real Skyress went back to her role as the leader of the Ventus Village with Neon Ingram and Birdagon.When Kyle was revealed to really have been sent to the doom dimension it was also revealed Naga Skyress was alive as well. She and Omega/Sigma Drago had gotten into a relationship and would protect Kyle at all costs. When one of Kyles old schoolmates who had become an agent named Grant appeared they tried to use the portal he made to get back to Earth and stop his plan of taking over the Earth and New Vestroia using Death Naga and the BCP cloning machines powerful Ultima-Zero Core to turn Death Naga into the ultimate bakugan. They defeated Grant after a brawl and sent him and Death Naga to the Zero Dimension.
Ad blocker interference detected!
Wikia is a free-to-use site that makes money from advertising. We have a modified experience for viewers using ad blockers

Wikia is not accessible if you've made further modifications. Remove the custom ad blocker rule(s) and the page will load as expected.