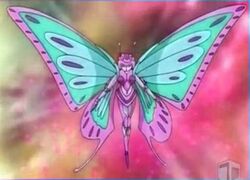 Purple Monarus is one of the wisest, strongest, and prettiest Monarus. Most Monarus want to meet her. All Monarus have heard of her. She has 700 Gs.
Information
Edit
Purple Monarus can use abilities of all Attributes. She mostly uses Pyrus and Haos abilities. She lives on the far side of A Vestroia. She used to live in Monarus Village. Her sister is Purple Moonlit Monarus. She is friends with Queen Monarus.
Abilities
(Attribute Name) Attack: +200 Gs, and Purple Monarus changes her Attribute.
Purple Breeze: + 250 Gs.
Fusion Abilities
Sister Attack: +300 Gs, can only be used with Purple Moonlit Monarus.
Ventus Monarus suggested that the group go find her to help defeat Prickley. When they found her, she told them that the A Core was missing.
Ad blocker interference detected!
Wikia is a free-to-use site that makes money from advertising. We have a modified experience for viewers using ad blockers

Wikia is not accessible if you've made further modifications. Remove the custom ad blocker rule(s) and the page will load as expected.