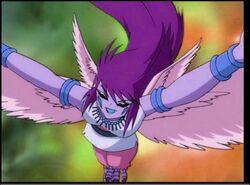 Harpus is Birdagon's "best" friend. She is a Darkus Bakugan. She has 500 Gs
Life/Story
Edit
Harpus lives in Ventus Village, on A Vestroia. She met Birdagon when he offered to help her with some groceries. She met Chihuamax through Birdagon. She is also friends of Monarus and Rec.
Abilities
Harpus was living peacefully until a odd formation of clouds showed up.
Ad blocker interference detected!
Wikia is a free-to-use site that makes money from advertising. We have a modified experience for viewers using ad blockers

Wikia is not accessible if you've made further modifications. Remove the custom ad blocker rule(s) and the page will load as expected.